Marke:                Chesini, ITA

Typ:                     Klassik-Renner, 12-Gang

Nickname:          "Flaviano"


Code:                  trds147: t.rides.chesini.74.04.2017

Farbe:                 lichtblau

Jahrgang:          1974

Masse:                530 mm (Sattelrohr, Mitte Tretlager bis OK Sattelrohr)
                            530 mm (Oberrohr, Mitte Sattelrohr bis Mitte Steuerrohr)
                            Für Körpergrössen von 160 - 170 cm geeignet

Rahmen:             Stahlrahmen gemufft

Bremsen:           Weinmann Carrera 400
                           (mit sehr seltenen Schmutzabstreifer Kettchen)

Bremshebel:      Weinmann

Schalthebel:      Simplex

Schaltwerk:       Campagnolo "Nouvo Record"

Umwerfer:         Campagnolo "Record"

Lenker:              Italmanubri ITM, Mod. Mondial, Alu

Lenkerband:     BBB Raceribbon BHT-12, schwarz (neu)

Kurbel:              Campagnolo

Pedale:              Campagnolo

Pedalbügel:       Christophe, verchromt

Schlaufen:         echt Leder, schwarz

Reifen:               Schlauchreifen, Wolber Profil TB Flanke natur
                           (auf Wunsch können neue Schlauchreifen aufgezogen

                           werden)

Nabe:                 VR:  FB "Brevete"
                           HR:  Campagnolo "Record"

Felgen:              Ambrosio Montreal, Durex Crono

Sattel:                Selle Italia, schwarz

Zustand:            Komplett überholt und erneuert.
                           Der Rennrad-Klassiker aus den 70er Jahren ist perfekt
                           geeignet als Gefährte für Historien Radklassiker wie etwa
                           "L'Eroica", "Gran Fondo" oder "Bergkönig Gstaad" und
                           entspricht zu 100% den Auflagen für teilnehmende
                           Rennvelos. Ein wunderschöner norditalienischer Rennrad-
                           Klassiker aus Verona, der jedem Velofan das Herz etwas
                           schneller schlagen lässt


Preis:                  CHF  830.00

                            Weitere Fotos und Informationen sind auf Wunsch

                            jederzeit erhältlich.

Dieser Renner eignet sich für Klassik-Rennrad Events wie:


Herleitung des Übernamens: "Flaviano"

Bei den UCI-Straßen-Weltmeisterschaften 1963 gewann Flaviano Vincentini auf einem Chesini-Rad das Amateur-Einzelrennen.
Die Einzelentscheidung der Männer war von der Presse als "große sportliche Schlacht" bezeichnet worden. Am 196,8 Kilometer langem Rennen nahmen 142 Fahrer aus 27 Nationen teil, von denen 52 das Ziel erreichten. Im Massenspurt erwies sich der Italiener Flaviano Vincentini als der Schnellste. Er erreichte eine Durchschnittsgeschwindigkeit von 38,06 km/h.

Zusatzinformationen zu diesem Objekt:

Chesini ist ein italienischer Fahrradhersteller aus Verona.

1925 baute Gelmino Chesini sein erstes Fahrrad. Das erste Modell war ein Rennrad mit dem Namen Chesini Biciprecision. Es wurde in einer Werkstatt in Nesente, einer kleinen Ortschaft nahe Verona, gebaut.

Nach dem Zweiten Weltkrieg prosperierte die Firma: 1947 übernahm Gelmino Chesini die Fahrradfabrik Cicli Valetti und zog in den heutigen Sitz von Chesini Bikes in die Via San Paolo in Verona. Nebenbei bot Chesini auch einen Kundendienst für Singer Nähmaschinen an. Heute führt der Sohn des Gründers, Gabriele Chesini, die Firma.

Bei den UCI-Straßen-Weltmeisterschaften 1963 gewann Flaviano Vincentini auf einem Chesini-Rad das Amateur-Einzelrennen. 1964 und 1965 gewann die von Chesini ausgestattete italienische Amateurnationalmannschaft jeweils das Mannschaftszeitfahren.

Chesini baute Anfang bis Ende der 1980er Jahre vor allem Rennräder und verwendete dazu unter anderem Columbus SL Rohr und Campagnolo Ausfallenden.

Heute werden Chesini-Räder außer im Chesini-Fahrradgeschäft in Verona in Deutschland und Japan vertrieben.


(Quelle: de.wikipedia.org/wiki/Chesini)

To see the first CHESINI bike we have to go back

to the time between the two world wars.

We are indeed in 1925 when, from the skilful hands of Gelmino Chesini, founder of the prestigious brand, the first innovative bike was created. The first model of a race bike, named CHESINI BICIPRECISION is forged in that year, in the workshop of Nesente, a small village near Verona.

In the post war period, the activities grow quickly and, in 1947, Gelmino Chesini acquires a bike factory, CICLI VALLETTI, and moves the headquarters of CHESINI BIKES to Via San Paolo. in Verona.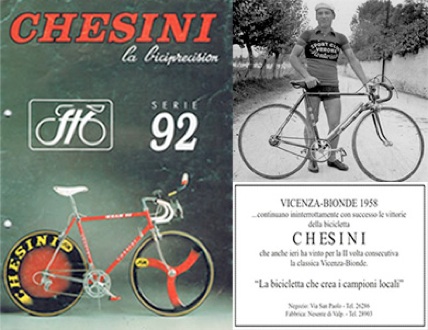 The sixties are the years of the Italian economic

boom that brought a big change in people mobility.

Cars were now more affordable and popular and started to became a status symbol.. And so, to further capitalize on the deep knowledge in precision mechanics and on the experience in the production of distribution mechanisms Mr. Chesini starts a service center activity for SINGER sewing machines.

However CHESINI never stops researching innovative solutions for its bikes. In 1963 a Chesini bike wins the Solo 100 km World Amateur Championship and in 1964 and 1965 CHESINI also wins the Team 100 km World Amateur Championships.

Soon the collateral activities were abandoned, choosing to follow the passion for the production of the highest quality bikes. As Gabriele Chesini, son of Gelmino, and strenuous and dynamic continuer of the company, used to say,

"our real and unique intent is to build special race bikes, perfect for racer and amateurs".

And this happened in Via San Paolo 8 workshop, in Verona, reaping acclaims and extraordinary agonistic results, such as the conquest of the World Juniores Championship in 1989. In that period several pro and amateurs teams chose CHESINI, in Italy and abroad, and CHESINI gains a lot of customers all over Europe, USA and Japan. In the same period the production was moved out of the city center to San Martino Buonalbergo (a few km outside Verona) and later to Verona Industrial Area, always keeping, the original roots in the headquarters of Via San Paolo, where passion, entrepreneurship and professionalism brought CHESINI to be a synonymous for quality and uniqueness.

Today these are the same tracts that distinguish CHESINI, still based in Via San Paolo 8, Verona: An unchanged ability to look forward, and anticipate trends and technical choices, believing that CHESINI bikes are unique such as their owners.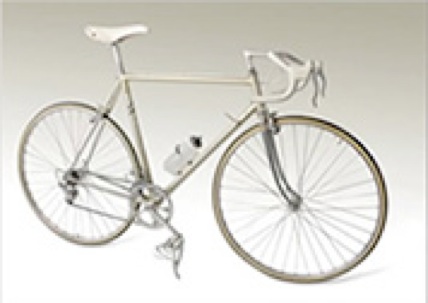 In more than eighty years long history,

CHESINI has always strived to offer the best products, looking forward and demonstrating to be among the best technicians and market connoisseurs, often anticipating public taste and trends. From this innate intuitive ability, supported by great business skill, our company grew and is still growing, faithfully following a philosophy of quality and dynamism, supporting amateurs and professional teams.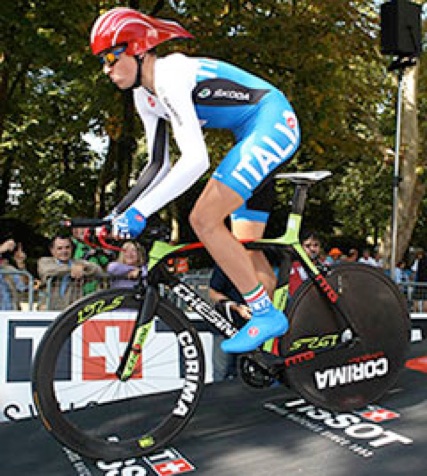 And again in 2013 the brand Chesini achieved other important successes by winning the world championship Triathlon and the participation with the Italian team in the Road World Championship. All these prestigious milestones allow us to face our next goals with renewed optimism and professionalism.

(Quelle: www.chesini.it/en/history.html)