Marke:                Panasonic, JPN

Typ:                     Renner mit Bullhorn-Lenker "PR-1000", 12-Gang

Nickname:          "Rainbow Warrior"


Code:                  trds184: t.rides.panasonic.91.07.2018

Farbe:                 multicolor

Jahrgang:          1991

Masse:                560 mm (Sattelrohr, Mitte Tretlager bis OK Sattelrohr)
                            550 mm (Oberrohr, Mitte Sattelrohr bis Mitte Steuerrohr)
                            Für Körpergrössen von 173 - 183 cm geeignet

Rahmen:             Stahlrahmen gemufft, Tange Champion Cro-Mo

Rahmen-Nr.:      1C05693

Bremsen:           Shimano Exage Motion

Bremshebel:      Tektro RL720, silber/schwarz (neu)

Schalthebel:      Shimano Light Action SL-A400

Schaltwerk:       Shimano Exage 300EX

Umwerfer:         Shimano Exage 300EX

Vorbau:              Sakae

Lenker:              Rennlenker, Sakae CT, Alu

Lenkerband:     RCP Racetape, pink (neu)

Kurbel:              Shimano Exage 300EX

Pedale:              RCP Touring Pedale, Alu silber (neu)

Reifen:               HR: Kenda Kontender Comp (700 x 26C), rot (neu)
                           VR: Kenda Kontender Comp (700 x 26C), grün (neu)

Nabe:                 Shimano Exage

Felgen:              Araya 700c, Alu

Sattel:                Race Saddle Velo, gelb mit Chromnieten (neu)

Beschrieb:         Der authentische Vertreter einer von Farbe geprägter
                           Designepoche anfangs der 1990er Jahre erstrahlt frisch
                           aufbemöbelt in neuem Gewand. Die neu montierten
                           Verschleissteile wurden streng nach dem bestehenden

                           Farbkonzept des Rahmens ausgesucht und der Logik
                           folgend angeordnet.
                           Der Rahmen hat einige Lackabsplitterungen vom Einsatz in
                           den letzten 25 Jahren. Das Velo fährt sich einwandfrei und
                           wirkt mit dem gedrehten und gekröpften Rennlenker sehr
                           sportlich.

                           VERKAUFT,

                           nach Winterthur.

Herleitung des Übernamens:  "Rainbow Warrior"
Die Rainbow Warrior (inoffiziell Rainbow Warrior I genannt) war ein 1955 gebautes Fischerei-Forschungsschiff der UK Ministry of Agriculture, Fisheries and Food (MAFF) und wurde zwischen 1978 und 1985 von der Umweltschutzorganisation Greenpeace bereedert, die auch Eigner waren. Der englische Name bedeutet Regenbogenkrieger.

Die Rainbow Warrior, ein 44 Meter langes Schiff von 418 Tonnen, lief 1955 als Fischdampfer Sir William Hardy (später Vega) vom Stapel. Greenpeace kaufte das Schiff für 40.000 £, zum großen Teil von der niederländischen Sektion des WWF finanziert, danach wurde es vier Monate lang renoviert. Am 29. April 1978 wurde das Schiff als Rainbow Warrior das neue Flaggschiff der Greenpeaceflotte, um gegen den Walfang weltweit, insbesondere vor Island, zu protestieren. Die Motoren wurden 1981 erneuert, 1985 wurde das Schiff zu einem "Anderthalbmaster" – Ketsch – umgebaut.

Das Schiff wurde 1980 von einem französischen Marineschiff gerammt, als die Besatzung gegen die Entladung von Atommüll zur Aufbereitung in La Hague protestierte.

1985 transportierte die Rainbow Warrior die Bewohner des durch US-amerikanische Atomtests verseuchten Rongelap-Atolls nach Kwajalein, die US-Regierung hatte ihre Umsiedlung abgelehnt.

1985 sollte die Rainbow Warrior zum Mururoa-Atoll in Französisch-Polynesien fahren, um gegen die dort stattfindenden französischen Atomtests zu protestieren. Als sie im Hafen von Auckland vor Anker lag, wurde sie am 10. Juli 1985 durch Agenten des französischen Auslands-Nachrichtendienstes (DGSE) versenkt. Dabei ertrank der niederländisch-portugiesische Greenpeace-Fotograf Fernando Pereira.

(Quelle: de.wikipedia.org/wiki/Rainbow_Warrior_(Schiff,_1955))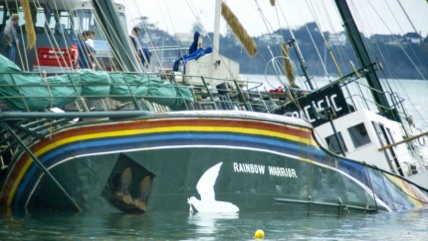 (Bild: www.spiegel.de/panorama)

Zusatzinformationen zu diesem Objekt:

The History of Panasonic Bicycles

Mr. Konosuke Matsushita was the man behind the National/Panasonic company.  As a child he was adopted into a family who owned a bicycle shop.  He passion for bicycles began at an early age and before long he was creating new innovations for the benefit of the cycling world.

In Japan, Mr. Matsushita's company was known as National.  This presented problems when looking to sell products in other countries such as the USA, so the name Panasonic came about for use on exported products.

Mr. Matsushita was always passionate about his bicycles and he refused to put his name on something he considered to be less than a quality product.  Perhaps this would explain why even the inexpensive low-end models such as the Sport 500 seemed to be so much nicer than the boat anchor department store bikes being sold at the time.

Matsushita was also known for his Panaracer brand bicycle tires.  He created the first successful synthetic tubular tires and Panasonic tubular cement is also highly regarded.

Panasonic Historical Timeline

•1918  –  Mashushita Electric founded.  (Parent company that would eventually be known as Panasonic)


•1923  –  A new battery powered bicycle headlamp was developed and distributed to bicycle dealers.


•1951  –  Bicycle frame production begins


•1952  –  Production of a roadster-model bicycle by C.K.D.


•National Tire Company established


•1956  –  Sport type bicycle production begins


•1958  –  Received license of sticking certification mark of J.I.S. (Japan Industrial Standard) for frames from M.I.T.I. (Ministry of International Trade and Industry)


•1962  –  Received license of sticking certification mark of J.I.S. for complete bicycles from M.I.T.I.


•1965  –  Factory established in Kashihara city in Osaka, Japan and National Bicycle Ind. Co. was established


•1967  –  Japanese national bicycle racing team adopts use of our bicycles for World champion competition.


•1971  –  Began to export Panasonic bicycles to Panasonic Company U.S.A.  Also began to export bicycles to Schwinn Bicycle Company U.S.A.


•1972  –  Japanese Olympic Bicycle Team adopted our racing bicycles for Munich Olympics.


•1973  –  Reward received for quality control from Osaka division of M.I.T.I.


•1974  –  Gojyo National Bicycle Parts Co. Ltd. established (wheel assembly factory)


•1976  –  Japenese Olympic Bicycle Team adopted our bicycles for the Montreal Olympics.  Only our Racing and 10 Speed bicycles were selected as up-to-date bicycles among the world bicycling manufacturers and demostrated at Benjamin Franklin Institute in Philadelphia for the American Bicentenial Celebration.


•1979  –  Began to export frames and bicycles to Europe.


•Began to export frames and bicycles to Canada.


•Began to export frames and bicycles to Austrailia.


•Organized Panasonic/Shimano Racing Team in U.S.A.


•1980  –  Began to export bicycles to T.I. Raleigh (U.S.A.)


•Japanese Olympic Bicycle Team adopted our racing bicycles for the 1980 Moscow Olympics


•1989  –  Panasonic Bicycles pulls out of North American market after the Dollar/Yen ratio makes bicycle market too unprofitable.


•TODAY  –  Panasonic continues to build high quality bicycles for other world markets.  A small number of bikes and frames remain available to North America through Madison, Wisconsin based Yellow Jersey Bicycles.

Panasonic in North America

Panasonic began exporting bikes to the U.S. way back in 1971. Those were the early bicycle boom days and Panasonic having been a bicycle maker for many years wanted in on the market.

We were lucky enough to be put in touch with the ex National Sales Manager for Panasonic's bicycle division here in the U.S., Mr. Norman Halperin.  Panasonic was Norman's initial entry into the bicycle industry – starting with Panasonic on April 19th, 1979 as a Sales Rep covering Metro New York, New Jersey and Connecticut.   At the time Panasonic had only one other Rep in the Chicago area and after another six months he left the company.

With only six months experience in the bike business Norman found himself being a senior man in sales department.  It was at that point that Panasonic decided to go nationwide and Norman became the National Sales Manager and started hiring reps all over the country.

Panasonic bikes hiding behind other labels…

You may be surprised to learn that Schwinn, Raleigh, Royce Union, Suteki, Centurion and other labels all at one time or another had Panasonic built bicycles wearing their badges.  Schwinn's very first outsourced bikes back in the early 70s were built by Panasonic.  These were the "World" bikes such as the World Traveller and World Voyager.  Later on in the 70s, Schwinn made a deal with Panasonic to build the LeTour model which would become the second most popular model for Schwinn in the 1970s

(Fotos und Infos: www.panasonicbikemuseum.info/1986-panasonic-dx-3000/)